Welcome!
Friday, 20 May, 2011 08:19 Written by admin

2019 Whoopie Pie Festival
FREE ADMISSION
Saturday, September 7th, 2019
Time: 10:00am – 4:00pm
Rain Date: Sunday, September 8th, 2019

---
Whoopie Pie Festival VIP Pass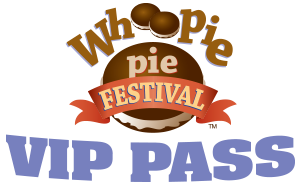 For $25 you can get:
Early Admission
Instant Access
Free Insulated Whoopie Pie Festival Tote Bag
Free Voucher to Participate in the Create Your Own Whoopie Pie Event
Voucher for Two Free Sets of the Whoopie Pie Launch Game
***VIP Pass Holders are eligible to bring ONE guest (plus any children ages 11 and under) inside the Whoopie Pie Retail Tent***
To purchase your Whoopie Pie Festival VIP Pass,
please call (717)687-8635 x.730 or email receiving@hersheyfarm.com.
Credit Card is the only form of payment accepted. There will be no refunds or exchanges allowed.
Deadline to purchase your VIP Pass prior to Whoopie Pie Festival Day is Monday, September 2nd. VIP Passes will be available to purchase on the day of the festival at the Information Tent, CASH AND CREDIT CARDS ACCEPTED.
 
Early Admission and Instant Access is for the Whoopie Pie Retail Tent Only. Your VIP Pass will not grant you early admission and instant access to any of the shuttle buses, events, games, or food and drink lines.
TO PICK UP YOUR VIP PASS PACKAGE:
Please arrive at the Information Tent on the day of the festival at 9:30am to pick up your VIP Pass Package. MUST SHOW VALID I.D.